Exoshock Model helps assess global impact of Covid-19 on Real Commodity Prices Indices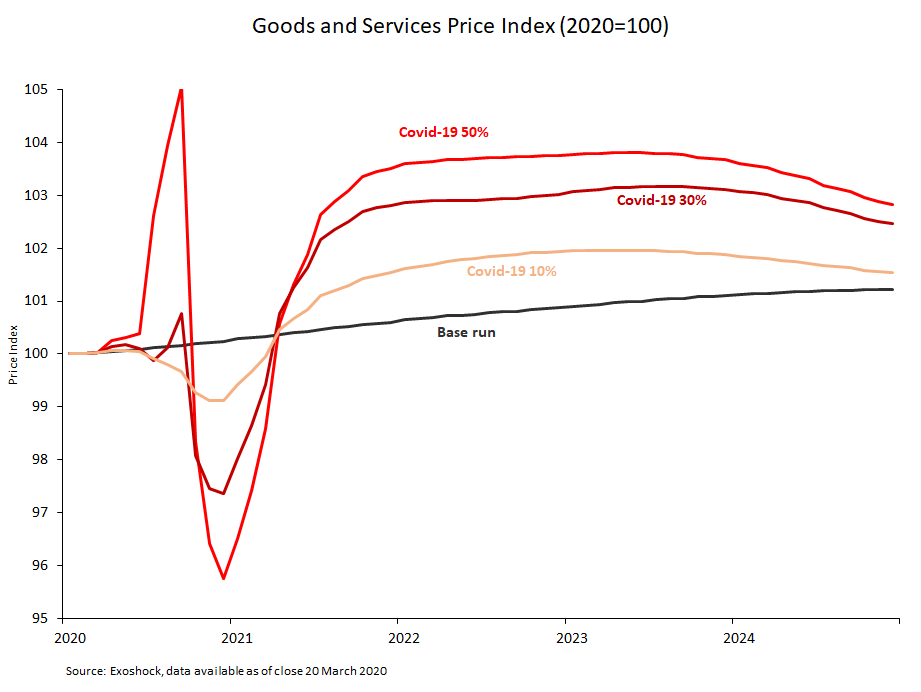 Exoshock Insights on the Global Economy
Exoshock is using its model to monitor Covid-19 effects on the global and regional economies
Recent global and regional events associated with Covid-19 and the spread of this deadly virus has shown the unpredictable impact of this virus on the economy and much wider implications on multiple aspects of human life.
Exoshock's unique model is being used to help understand and assess the impact of Covid-19 to specific areas of the economy such as oil prices, food production and consumption, the labour market & employment, GDP growth rates, effects of low interest rates etc.
This is NOT all "doom & gloom" but over time, the impacts will definitely affect human life and the way we live
The Exoshock team have used their global impact assessment model to test the possible consequences of leaving people at home, and low productivity of the economy when placed out of the work force for a certain period of time.
Exoshock models the impact of Covid-19 on the production of Goods and Services, which acts as a proxy for the stability of the UK economy, and is largely dependent on the services sector as fraction of its output.
Exoshock believes people should start planning for the long-term as Covid-19 will continue to spread around the world, with countries shutting down their production facilities for at least 6 months.
Exoshock tested the model assuming:
Business as usual scenario (Base run) – As if Covid-19 never happened
10% reduction of labour force (March 2020 – September 2020) due to Covid-19
30% reduction of labour force (March 2020 – September 2020) due to Covid-19
50% reduction of labour force (March 2020 – September 2020) due to Covid-19
The results are presented in the chart below.
COVID-19 CREATES SHOCKWAVES FOR GOODS AND SERVICES IN 2021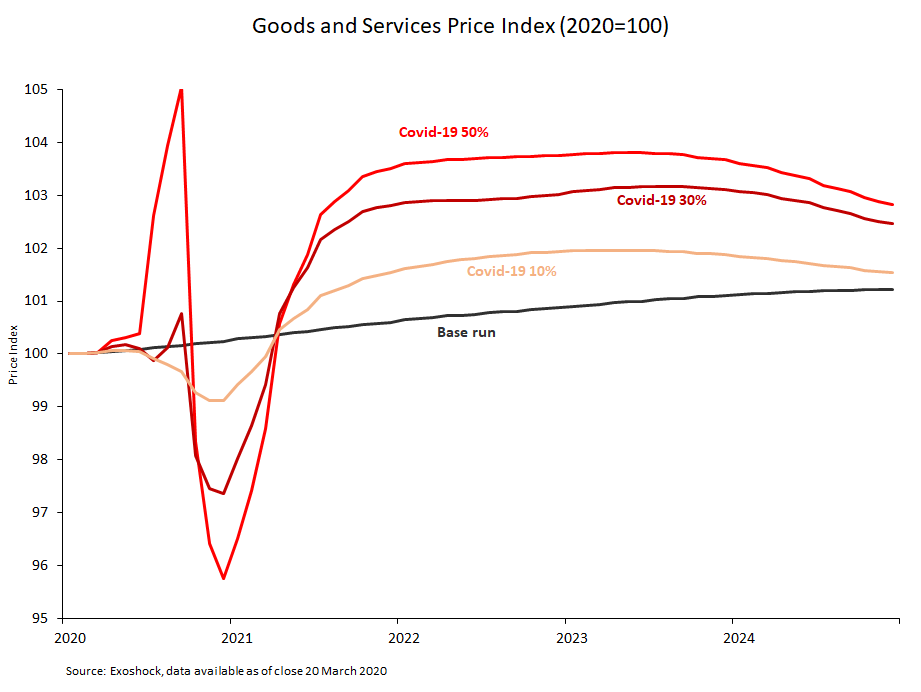 While some countries will shut down their facilities under the threat of Covid-19, demand will initially move towards other countries thus increasing prices and helping them build capacity.
When the labour market fully returns to work, the Exoshock model shows that supply will exceed demand, generating a sudden drop in prices, and a potential for deflation to hit the market, with repercussions until the first quarter of 2021.
Consequently, Central banks and governments may have to intervene with such instability over this time through inflation protection, quantitative easing, etc.
Over the coming weeks, Exoshock will use its model to provide regular updates on these impacts.
---
Exoshock is an interactive, hybrid modelling tool, which allows global organisations to reduce critical business risks to real-world events. The Exoshock model accurately simulates economy reality, capturing general market trends and calibrated against historical data. It's an ideal solution for "forecasting" & "scenario planning" for all economy activity including impacts of Covid-19 on multiple environment variables.